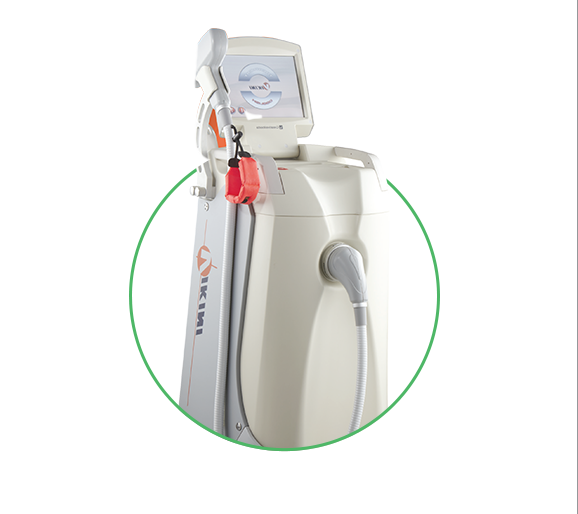 VIKINI 808nm Diode Laser
High Power Hair Removal Diode Laser System
High Power Diode laser system for permanent hair removal equipped with collinmated optical lens for less pain and effective results with short pulse duration.
VIKINI is suitable for most skin types providing a number of pulse modes and power cooling through its sapphire tip.
Designed with the operator in mind, VIKINI offers straight forward, easy to use parameters for optimal results.
Manufactured by Creative Ilooda, this company is at the forefront of laser development and can boast a full suite of devices from Diode hair removal to CO2 lasers. With the advancement of technology at the core of their principals, they have developed VIKINI as a platform to be sold globally with approvals including CE, KFDA and FDA.
The benefits of VIKINI are:
• Safety
• Less Pain
• Quicker Treatment Times
• Total power management functions
• Enhanced Power by Optics
• Contact Cooling Sapphire Tip
• Simplified operator preferences
• No Consumables
ILOODA FRAXIS CO2 LASER
CO2 Fractional laser system
It radiates micro laser beam by scanner on the skin and it induces resurfacing on epidermisand regenerating on dermis as optimum thermal effect.
Uniformed and stable beam quality by 30w RF metal tube provides safe and accurate operation. Optimum beam size minimizes PIH risk & down time and maximizes thermal effect with ablation. So both doctors and patients are satisfied with the result.
CO2 Micro focusing Fractional Laser
• 10.6um wavelength Laser (high water absorption)
• More high power is adapted 30W Tube (Made in USA)
• More high beam quality is adapted RF Tube
• Fraxis releases micro-sized Laser beams punched into the skin, which gives strong dryablation & mild thermal damage,
• It gives good results for scars, wrinkle, rejuvenation, large pore
• Minute Laser Beam hole is delivered to dermis, It help to resurfacing & Remodeling collagen