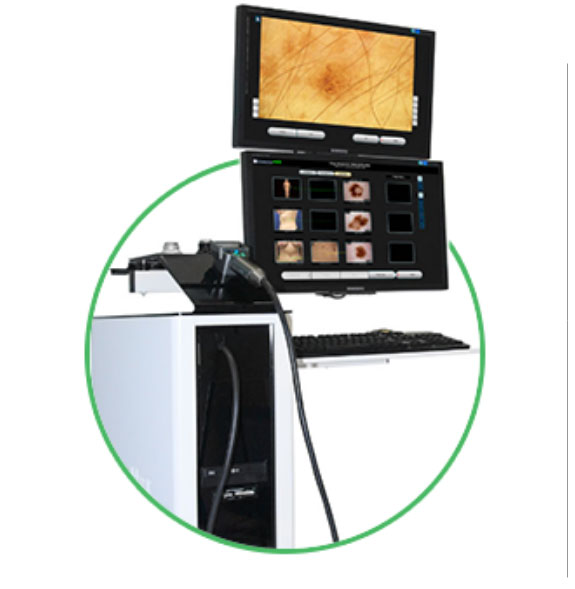 MOLEMAX
HD PRO
Molemax is the first integrated system for digital epiluminescence microscopy and macro imaging in the world.
Molemax was the first digital epiluminescence system in the world jointly developed with dermatologists and clinics for use in dermatological practices.
Molemax was introduced internationally in June 1997 at the Melanoma World Convention and the subsequent Dermatologists World Convention, and since then Molemax has become the Worldwide accepted clinical standard.
MOLEMAX HD PRO is at the cutting edge of technology bringing dermoscopy to a new level. This device together with its unique software has the highest level of skin imaging and disgnosis.
The Molemax HD advantages include:
• Unique Digital Image transfer via HDMI
• Variable Magnification up to 100x
• Two flat TFT Monitors
• Proofed MoleMax functions
• Total Body Mapping Capabilities
The unique High Definition Camera provides:
• Additional LCD Screen on the Camera
• Adapted full HD Sony Industrial Camera
• Maximum Video and Digital Resolution
• Software Control directly from the Camera
• Easy handling by using control buttons on the Camera
• Camera completely controlled by the Molemax Software
TOTAL BODY MAPPING SET
The Total Body Mapping Set was designed to standardise and facilitate examination and documentation of all skin diseases. The "Body Mapping" function provides guided photographic documentation of the entire body based on 33, or for quick examinations on 10 preset body segments to identify new moles for melanoma prevention.
The set consists of:
• Unique Camera software control
• Advanced Documentation software
• TBM Stand with adjustable rail that can slide up and down with lock-in intervals every 10cm, allowing for images to be taken from the patients feet to their forehead.
• Unique light sources allowing for a clear, bright, non reflective image to be taken of the patient's skin.
MOLE MAPPING AND YOUR BUSINESS
Molemax was developed for dermatologist and sold mostly into hospitals around the globe. While the hospitals deploy this technology every day, private dermatology clinics are rolling out this system as patients want the procedures carried out without the waiting times that occur in the public health systems. There is also greater access to histology and private referrals across Europe now making aftercare following diagnosis easier and more accessible.
For more information on Molemax please contact us at info@adareaesthetics.com